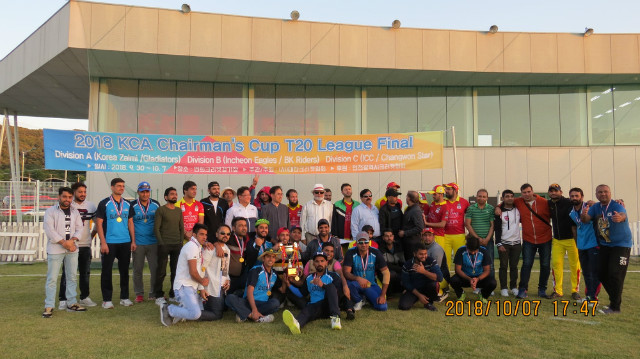 2018 대한크리켓협회장배 T20 리그 결승전 및 시상식
10월 7일 2018 대한크리켓협회장배 T20 리그 시상식을 성대히 마쳤습니다.
행사에 참석주신 내외빈 여러분과 성원해주신 모든 분들께 감사드립니다.
어제 행사는 4월 15일부터 시작해 지난 10월 7일까지 A리그 8개팀, B리그 6개팀, C리그 6개팀으로 나누어
총 44경기를 치러서 우승팀을 가린 국내 최대 규모의 크리켓대회 시상식이었습니다.

Division A Final
Gladiators Vs Korea Zalmi
Score:
Korea Zalmi, 74/10 in 15.1 Overs.
Gladiators, 75/8 in 19.1 Overs.
Gladiators won by 2 WKTs.
Man of the Match: Mudassir 52 runs and 4 wickets
Division A Best Batsman
Korea Zalmi Cricket Club
Mudassir Iqbal 230 runs.
Division A Best Bowler
Korea Zalmi Cricket Club
Aamir Lal 13 Wickets

Division B Final
BK Riders Vs Incheon Eagles
Score:
Incheon Eagles, 168/8 in 20 Overs.
BK Riders, 144/9 in 20 Overs.
Incheon Eagles won by 24 runs.
Man of the Match: Naeem Azmat 43 runs and 1 wicket
Division B Best Batsman
IIK Cricket Club
Bilal Naseer Khan 128 runs.
Division B Best Bowler
Nepal Rhino Cricket Club
Suraj Pandy 11 Wickets

Division C Final
Changwon Legend Stars Vs ICC
Score:
ICC, 202/5 in 20 Overs.
Changwon Legend Stars, 178/10 in 18.5 Overs.
ICC won by 24 runs.
Man of the Match: Natarajan Guru Prasath 50 Retired Hurt
Division C Best Batsman
Lankan Rockers Cricket Club
Thajeev 302 runs.
Division C Best Bowler
Changwon Legend Stars Cricket Club
Bashir Numan 12 Wickets